From 21-23 March 2023 we will be exhibiting with MARIS at tire technology EXPO 2023 Booth C335.
Two-stage devulcanization process
Maris Corp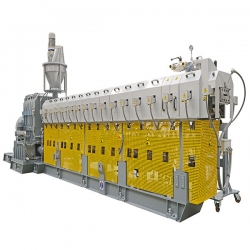 To produce devulcanized rubber with very high quality standards, Maris Corp has designed and patented a new two-stage devulcanization process.
The first phase involves devulcanization of the rubber by means of a co-rotating twin-screw extruder – ensuring characteristics equivalent to Evorec Rubber. Through direct connection, this devulcanized rubber is then fed to the second extruder.
The second phase, undertaken by the combination of a single-screw extruder and a screen-changer, offers considerable advantages. These include sudden cooling of the devulcanized rubber, which allows the temperature of the extruded strip to be contained, thereby minimizing the degradation of the rubber. The effects are observable in the mechanical properties of the recycled material and in reduced emissions of odorous gases.
The second phase also allows for rubber filtration as a result of the high thrust capacity of the single-screw extruder, which allows the devulcanized rubber to be filtered before its extrusion, once again increasing the mechanical properties and, more generally, the quality of the recycled material.
Maris Corp.
Visit our booth C335 to inform yourself on site about the wide range of products! Of course, we are also available in advance to answer your questions about your desired product or topic.
ROLF SCHLICHT GmbH
phone: +49 4533 6063-100
e-mail: sales@schlicht-gmbh.de